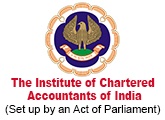 SINGAPORE, Aug 2, 2023 – (ACN Newswire via SEAPRWire.com) – For the first time in its 75-years history, The Institute of Chartered Accountants of India (ICAI) will hold a mega convention overseas in Singapore. This unique international convention — RESOLVE-2023 is a highly anticipated conference that will revolve around the overall "Insolvency Resolution" ecosystem. The Convention will be held at Singapore's Grand Copthorne Waterfront Hotel on 4th & 5th August, 2023 and will explore into numerous aspects of the insolvency resolution including innovative and best practices, and models to review and redesign the legal framework of the proceedings.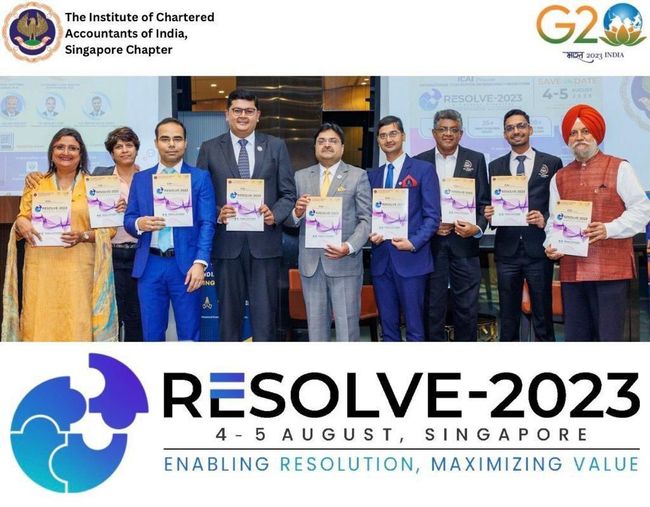 The grand event will bring under one roof about 300 industry leaders, financial experts and distinguished guests for two days of knowledge enrichment and networking while offering them insights into the world of insolvency from across the globe. The Guest of Honour for the programme is Mr. Vikram Nair, Hon'ble Member of Parliament for Sembawang GRC, Republic of Singapore and some of the special guests and thought leaders who are participating are H.E Dr. Shilpak Ambule, High Commissioner of India to Singapore, Hon'ble Justice Ashok Bhushan, Chairperson, National Company Law Appellate Tribunal, Mr. Justice (Retd.) Arjan Kumar Sikri, Ex Judge, Supreme Court of India, Mr. Francis Ng SC, Official Assignee & Public Trustee, Ministry of Law, Singapore, Mr. Sudhaker Shukla, Whole Time Member, Insolvency and Bankruptcy Board of India, besides the top dignitaries and leadership of the Indian accounting profession, CA. Aniket Sunil Talati, President, ICAI and CA. Ranjeet Kumar Agarwal, Vice President, ICAI.
The discussions will encompass topics of significance like Alternative Dispute Resolution, Trend Analysis in Global Debt Resolution, Group Insolvency, Opportunity for International Funds, Essence of Insolvency Timelines, Innovative Approaches to Resolution, Role of Regulators & Policy Makers for an Effective Ecosystem, Role of Creditors, Market Dynamics for Stressed Assets, Valuation, Transaction Review etc.
Adding more insights on the RESOLVE-2023 CA. Aniket Sunil Talati, President, ICAI said, "A comprehensive and coherent Insolvency Resolution Framework is one of the core pillars of economic growth of any nation and a strong resolution framework is indispensable for laying down the foundation for future sustainable development. RESOLVE-2023 will provide a unique learning opportunity for professionals across the world to learn and share the best practices and developments in the space of insolvency resolution. Let us all professionals fully gear up and wholeheartedly Involve to Resolve."
Speaking for the occasion CA. Ranjeet Kumar Agarwal, Vice-President, ICAI said, "Economic stability and prosperity require an effective insolvency resolution framework. The need for strengthening the insolvency resolution framework has assumed great importance recently. This Convention will facilitate networking and indulge in deep insight and cross-jurisdiction experience sharing with globally diverse practitioners through interactive discussions."
CA. Gyan Chandra Misra, Chairman, Committee on Insolvency & Bankruptcy Code, ICAI added that, "RESOLVE-2023 Convention has been carefully crafted to facilitate the sharing of unparalleled knowledge and insights regarding best practices and emerging global developments in the field. It offers extensive networking opportunities for professionals in this domain and serves as a platform for professional enrichment in contemporary and emerging areas on a global scale."
For this momentous convention, CA. Somnath Adak, Chairman of the ICAI Singapore Chapter shared, "The Convention has been designed in a way as to enable sharing of knowledge with unsurpassed depth and breadth about the best practices and emerging global developments in this sphere. ICAI Singapore Chapter, being the Ambassador of ICAI in Singapore is proud to host this event."
About ICAI
The Institute of Chartered Accountants of India (ICAI) is a statutory body set up by an Act of Parliament viz The Chartered Accountants Act, 1949 for the regulation and development of the profession of Chartered Accountants in India. The ICAI functions under the administrative supervision of the Ministry of Corporate Affairs, Government of India, with more than 830,000 students & over 390,000 members, ICAI is the largest professional accounting body in the world, with a strong tradition of service to the nation. Today ICAI has a wide network of 5 Regional Councils and 168 Branches in India. It has 46 Overseas Chapters and 34 Representative Offices and a presence in 80 cities of 47 countries of the world.
Singapore Chapter of ICAI is a well-regarded professional body in Singapore. It plays a pivotal role in the professional development of Chartered Accountants in Singapore by curating & hosting professional events, webinars, and knowledge series events.
For media prc@icai.in
Jyoti Singh
9999926198
Copyright 2023 ACN Newswire. All rights reserved. (via SEAPRWire)